Did you know that almost over 200 million people have used Instagram as a business profile throughout the world in the year 2021? Well, it is just an approx number for a single year. But yes, saying this wouldn't be wrong that Instagram is surely worth the hype as it offers many features and business tools and also, and you can also create a business profile on Insta without any additional charges.
This platform also helps you to maintain good communication with your customers. On this platform, you can share your product with your followers and take feedback from them. You can directly communicate with your audiences through live videos and start a question-answering session, this strategy really helps get more attention of viewers and improve the reach of your business.
What is a Business account?
A business account is an account that is created for business purposes. This provides an opportunity that buyers and sellers to communicate directly. The main objective of this profile is to use various features on Instagram to sell his products and spread his organization among users.
Why We Use Instagram for Business?
Instagram is a great platform to do business. This social media platform helps us to grow our brand awareness, boost sales, introduce new products, and helps to discover new ideas. Here you get a large number of potential customers to sell your product. Your products can reach many people at a time with just a single post. On Instagram, you get more features and business tools, for which you do not have to pay any money unless you are putting Ads on Instagram.
How to Use Instagram for Business?
To use a thing properly we must have some knowledge regarding this particular thing, We need to know which way we will take to reach our goal. Here we discuss those ways: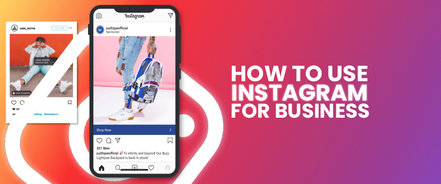 1. Create a Business account on Instagram
First Open an account on Instagram. Then transform the account into a business account. If you do not have any knowledge of how to open an Instagram account on mobile or computer then this article is very much resourceful for you. Here we describe all the procedures in detail. Now you follow all the steps. These steps are given below:
Download the Instagram app
First, download the Instagram app from the Google play store on your Android or download it Instagram.com site. After downloading this app, open the app and tap on "Create New Account".
Sign up
Then follow the instructions to create a new account on Instagram with your email address. If you already have a business account on Facebook you can also sign up with that Facebook business account. One thing you should also remember is that your Instagram Username is most likely to be your organization's name.
Switch your account
After creating a new profile on Instagram now you can start to transform your personal account into Business Account.
Follow these steps:
Tap on your Instagram Account.
Tap on the Profile icon button at the bottom right corner of the screen.
Now that your Instagram profile is open, tap on the three-line menu bar in the top right corner.
Tap on "Settings" in the navigation menu that appear on the screen.
Tap on "Account".
Tap on "Switch to Professional Account" bottom of the page.
"What Best Describe You"- This page will open then you choose your categories from here Tap on the "Done" option
Now you will see another option "Are you a Creator?" then you select the "Business" option.
Complete your profile
After completing your setup with a Business account then you will see another option "5 steps to complete". Then you complete your profile with an appropriate profile picture, put a relevant Bio, and fill in your company or organization information.
Connect your Business account on Instagram with your Business Facebook page
When you generate an Instagram account and you do not merge your business Facebook page now this is time you can attach your business Facebook page with your Business account on Instagram.
Follow these steps: Tap on your Instagram Account ≫ Tap on the Profile icon button at the bottom right corner of the screen ≫ now that your Instagram profile is open, tap on the three-line menu bar in the top right corner ≫ Tap on "Settings" in the navigation menu that appears on the screen ≫ Tap on "Business " option ≫ Now tap on "Connect a Facebook Page".
2. Post Valuable Content
Many people who are engaged in the Instagram business they also post their content on Instagram. So, you should not only post content, but you should also pay attention to the quality of your content. Content Should be presented according to the needs of the present situation.
3. Increase the Number of the Following
Instagram is a social media platform that numerous people on the national as well as global scale are using. By this, you introduce yourself or your business account to those people.
4. Go to live:
Among the other features of Instagram, Live video is a more effective way to attract more audience and increase your Business. By using this strategy you can present your content or products to the viewers and interact with them directly through the comment section.
5. Put Appropriate Ads
You need to create add for your product and post it on Instagram to attract people. These Ads represent your product via the short descriptions attached to it. It can help you to reach a large number of target audiences faster and boost the sales of your product.
6. Use Your Instagram story
You can set your new content, and products on your Instagram story daily basis. It helps to attract people to your product. Post your product on your Instagram story and maintain consistency.
Also, read- https://www.buysocialbuzz.com/news/how-to-link-instagram-to-facebook-page-heres-how/
Wrapping up
In this article, we have discussed the complete method of How to Use Instagram for Business and tried to give you a clear idea about it. So, go ahead and use the steps discussed in this article and successfully start your business on Instagram.
FAQs
1. Is Instagram free for all types of businesses?
Ans: Yes, here all types of businesses can be done free of cost. Business accounts can also be created for free. But if you choose to run Ads on this platform then you have to pay certain fees for that.
2. Is it profitable to do any small business on Instagram?
Ans: Absolutely. Small businesses also get equal opportunities here. All the features and business tools that are available here can be used to promote your business.